Citigroup Says Investors Should Be 'Brave' and Buy Stocks
Markets have staged quite the comeback, with the Dow Jones Industrial Average up more than 700 points since Friday's low.
All the upwards activity has brought out a few market bulls, most notably Citigroup analysts led by Robert Buckland who are now urging investors to screw their courage to the sticking place and stick some money into stocks:
"Time To Be Brave (Again). We think that latest global equity sell-off represents a correction in an ageing bull market, rather the beginning of the next major bear market. Our bear market checklist highlights 16 factors that flashed sell at the 2000 and 2007 peaks. Right now, only three are in danger territory. Collectively, Citi strategists forecast a 20% gain in global equities to end-2016. We suspect that the markets have already moved to price in a mild global EPS contraction, but our bullish view would clearly be at risk given a more severe recession."
You can see the Citi team's "bear market checklist" below. It includes items like valuations, capital expenditure, bond spreads and earnings growth among others. Of that list, only three factors — net debt to earnings, spreads on junk-rated U.S. bonds and global returns on equities combined with M&A as a percent of market cap — are flashing bearish signals vs. 12.5 in 2007 and 15.5 in 2000.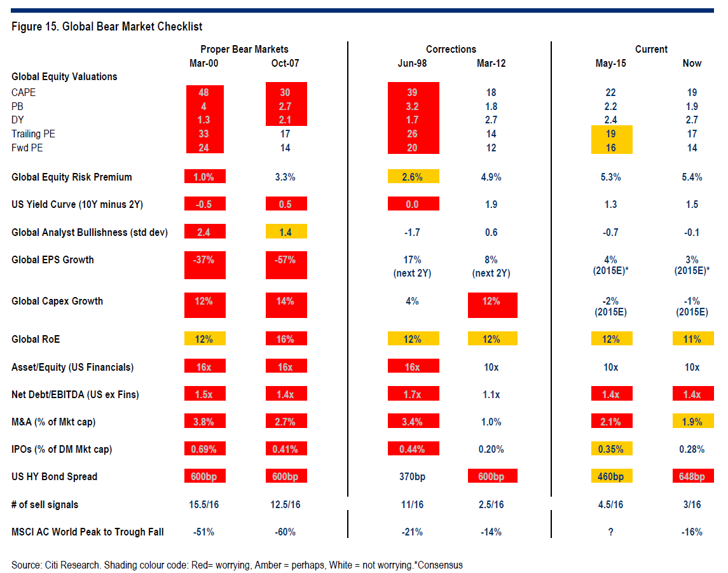 © Citigroup via Bloomberg Only three factors are flashing bearish signals vs. 12.5 in 2007 and 15.5 in 2000.
In the midst of this, Kit Juckes at Société Générale offering a note of skepticism to Citi's argument.
In his mind, this is a really easy week to be bullish. Here's what he had to say about Citi's note:
"Citi strategists think we should be brave and buy stocks … Ebenezer Scrooge would no doubt say 'Bah, Humbug' and threaten to boil them with their puddings, but the carry- fanatics have the upper hand this week and there's precious little in the data calendar to get in their way. With equities higher, oil prices up, commodities bouncing, investors are eyeing an opportunity to add some risk to portfolios for Q4."
Whether it's an easy week to be bullish or not, here's a look at where Citi expects a few global market indices to end 2016.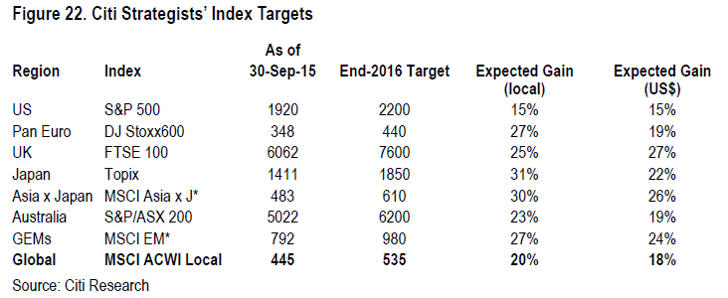 © Citigroup via Bloomberg Where Citi expects a few global market indices to end 2016.
Julie Verhage