What it took to build the most complicated watch ever made
A few weeks ago, Vacheron Constantin announced that it had made the most complicated mechanical watch ever. When the massive pocket watch came to the United States, we sat down with Dominique Bernaz, director of Vacheron's bespoke watch department, to find out just what went into turning an idea into a watch.
All in all, it took eight years for Vacheron to create the reference 57260, named for the watch's 57 complications and the company's 260th anniversary. It is nicknamed the Tivoli, which is much less of a mouthful. For a full list of the 57, along with an explanation of what they do and how they work, check out our full breakdown from when the watch was first unveiled.
Eight years ago, a collector approached Vacheron, asking for a special pocket watch. The collector didn't start by asking for the most complicated watch in the world. He asked for a particular set of complications; at some point, the design process embraced the idea of adding a Hebrew perpetual calendar to the Gregorian calendar. This sent the watch over the line, earning it the crown of complexity.
Who is the mysterious collector? We don't know. Vacheron will not release his name, though it always refers to the collector as "he" or "him." Bernaz told us only that "he" is one of the top pocket watch collectors in the world, as well as a long time Vacheron Constantin client. An additional clue is that the star chart on the watch is calibrated to a particular location; the night sky that it shows looks a lot like what you see over or near New York.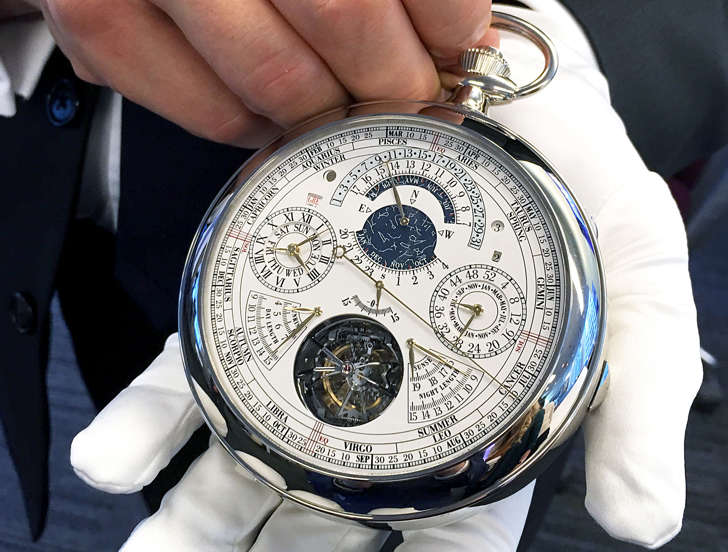 Nor will Vacheron Constantin reveal how much this man paid for the Tivoli. As you might expect, an eight-year project involving three watchmakers and a lot of research and development doesn't come cheap. Bernaz said rumors circulating online that put the price between $8 million and $20 million are accurate. This is significantly more than the $5 million figure that was rumored when the watch was released.
This price probably earns the Tivoli a lesser crown as the second-most-expensive watch ever sold. The most expensive watch ever sold is the Henry Graves Jr. Supercomplication, whichfetched $24 million last year at a Sotheby's auction in Geneva, smashing the $11 million record the Supercomplication set when it was sold in 1999. That watch was the most complicated watch ever made when Graves took delivery in 1933.
Stephen Pulvirent